7 Nightstand Decor Essentials
Believe it or not, there is a formula to designing the perfect nightstand. Explore my curated collection, and get inspired to take on your own space. Nightstands are a major part of the focal point of the room, with the bed being front and center, so you want it to be balanced and grab everyone's attention as soon as they enter the room. You also want your nightstand to speak something about you, so add your personal touches. Let's have a look at these inspiring spaces!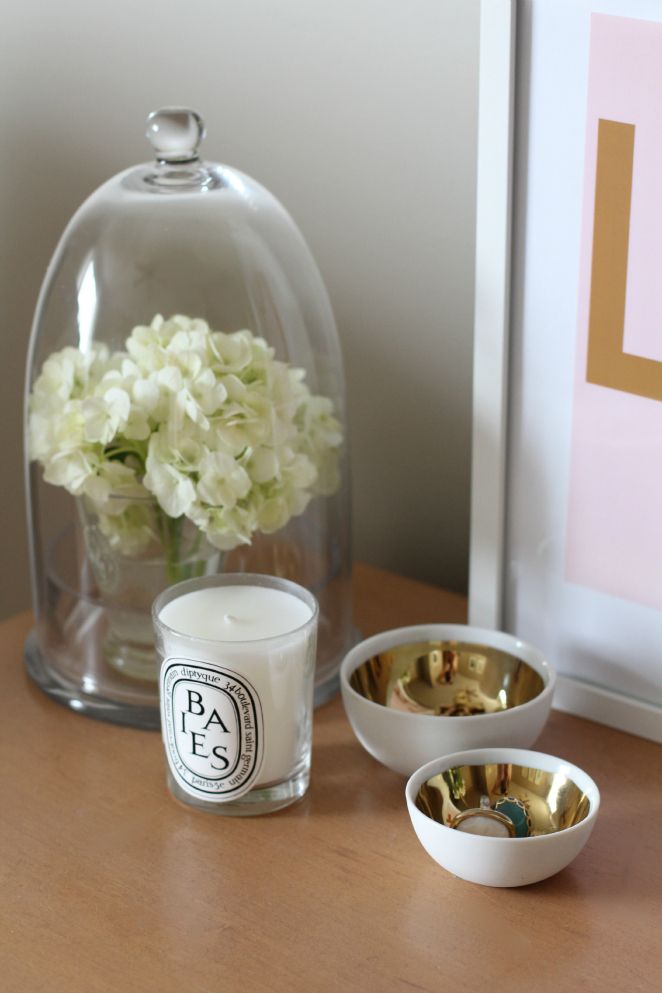 From simple, to elaborate, these nightstands all have on thing in common: I want them all! But really ... don't these spaces make you want to cozy on up in bed? It's amazing what a little thought can do for those small little tables to give each room character. Here's to helping you design your very own nightstands that will make your bedroom look as if it popped out of a Pinterest board! Read on for my 7 Decor Essentials.
1. Nighstand: A stool gives this bedside a cheery, vintage vibe. The tables you choose will give your bedside character, so here are some points to help you decide what type of tables to go for.
+ Decide what look you want to go for - perhaps a vintage and whimsical or polished and modern feel? For a vintage feel, try using a wood stump, an old chair, crates, or anything with a weathered appearance. For a more polished feel, opt for dressers with clean lines that are symmetrical. You may even combine the two and get an even more interesting outcome. Interesting alternatives: desk, stool, cabinet, dresser.
2. Lighting: With so many lamp styles available, look for a pair that compliment your nightstands. Wall and pendant lamps are a break from the traditional table lamp and can free up some extra table space too. Try these unique firefly lights for a more ethereal feel. It'll make your bedroom feel all fairytale-like.
3. Art: Creating a gallery wall like this above your nightstand is so much fun. You may also extend it all the way around the wall above your bed if you've got the patience! If you don't think taking on a project that big is in your stars, try stacking frames on top of your nightstand instead - a very easy and casual way to display art. Incorporating some type of framed piece, whether it be a picture, art, a mirror, or other wall decor can really create a ton of visual interest in your room.
4. Plant: A leafy plant like this one is one of my favorite plants to use in the bedroom. Not only will it last you longer than flowers, but it is low maintenance and won't die if you lack a green thumb (like me). Flowers are great too, but fresh is always best. Want to be different? Succulents or cactus are perfect as well, because like leafy plants, they too last long and are low maintenance. You can even try a vase filled with eucalyptus and it'll fill your room with a wonderful scent too. Don't care for plants at all - an assortment of empty vases are just as pretty.
5. Books: Here, a floral arrangement sits atop a few monochromatic books to add height. Not only is it nice visually, but having a few good reads nearby is always a good thing, especially before bedtime to help you get relaxed for the evening. Think of books as a pedestal for whatever you place on it.
7. Objects: Choose one or two small objects to place on your nightstand to add a touch of personality. Decor ideas: Candle, mug, animal figurine, shell, vase, clock, etc. Place them atop your stack of books like the above picture.
Tips:
Try incorporating a number of these decor essentials into your existing nightstand setup.
To create balance, try to design both nightstands with a unifying piece or pieces - identical tables, lamps, plants, etc.
You don't need to use all 7 decor items - choose a combination. Maybe you want to use a plant and some books - that works perfectly well. Get creative with your space and do what works for you.
Look for items around the house. You usually have all of these items already.
Does this inspire you to update your nightstand or design one from scratch? Let me know in the comments.
Share your nightstands with me on Instagram - tag @hellolovelyliving for me to see! <3
Featured image via The Every Girl