Wallpaper Wednesdays 29 | Artist Feature - Laura Fedorowicz
Wallpaper Wednesdays had a short hiatus, but have no fear - it's back! This week, I'm featuring Laura Fedorowicz, a Canadian artist that I came across on Instagram. She makes the most vibrant pieces of art that have a soft and feminine feel while also giving off energy and movement.
Laura's strong use of contrasting colors in vibrant and pastel hues make her art feel very bold, yet soft. Her artwork is perfect for anyone who wants to incorporate color into their home without having to paint the walls. As you can see in the photo above, it accomplishes just that. Her pieces add that perfect modern touch and are filled with abstract patterns, which I can see make any space a happier place because of them.
I really love Laura's use of color and the color palettes that result from her work. Sometimes it can be intimidating to use so many colors, but she uses them so perfectly well that everything comes together without looking overpowering. The patterns she comes up with - well, I can stare at them all day. And her paint swatches look just as beautiful as her finished pieces.
But that's just the beginning for Laura, who is quite the busy-bee. I was really excited to find out that her designs can be found on so many products from gift wrapping paper to home decor. I just about wanted everything I saw! Her recent collaboration with Hedoe Paper (above) will make it hard for anyone to want to rip their packages open. I know I just couldn't see myself destroying such beautiful wrapping paper.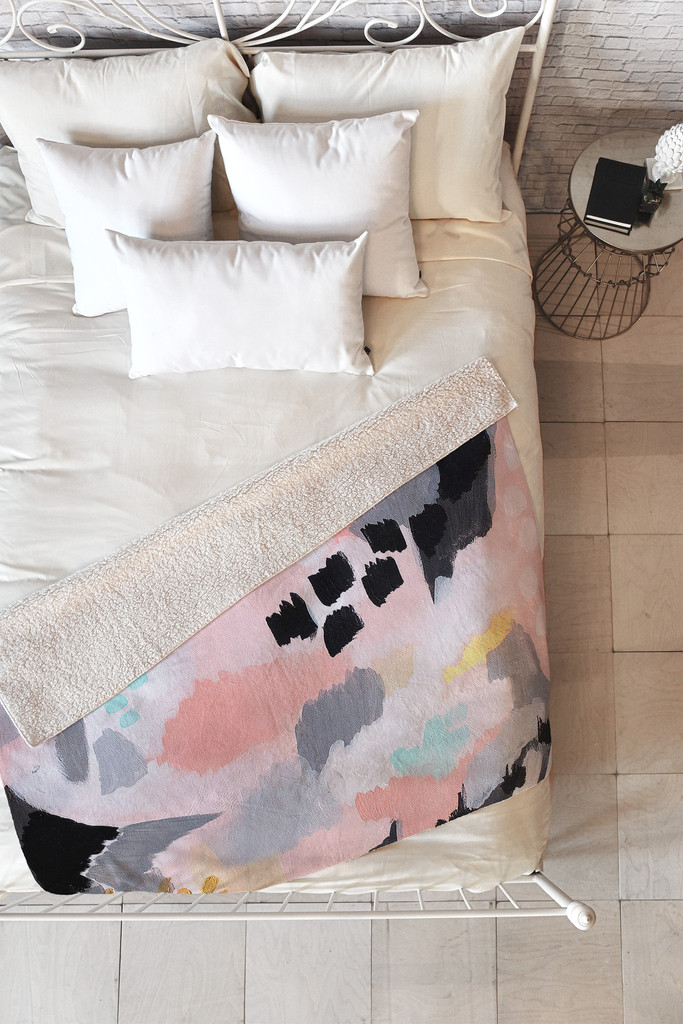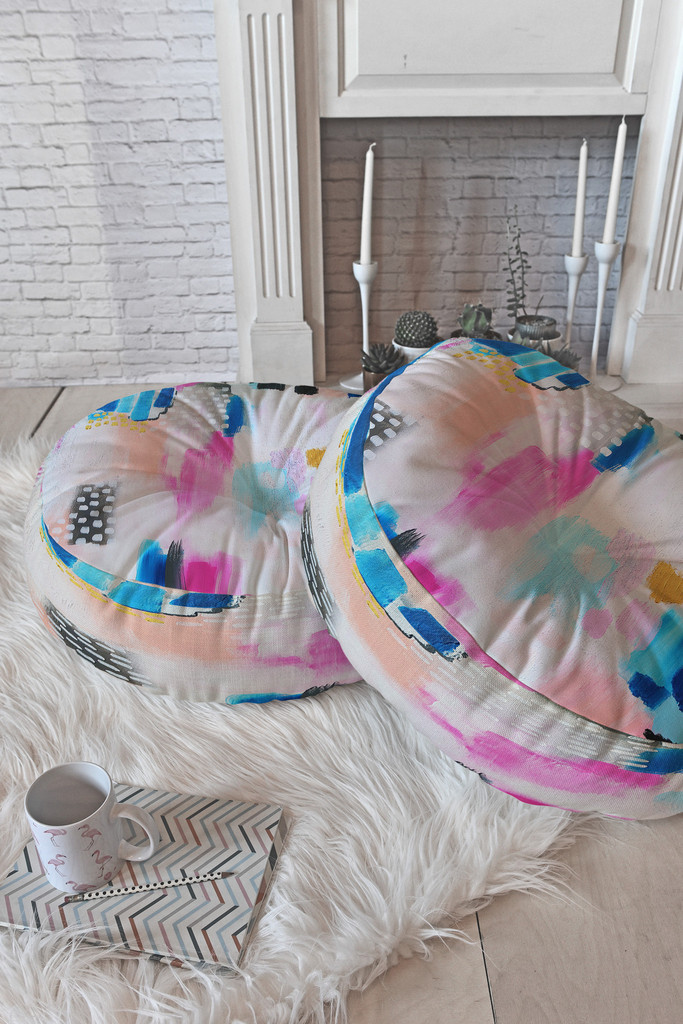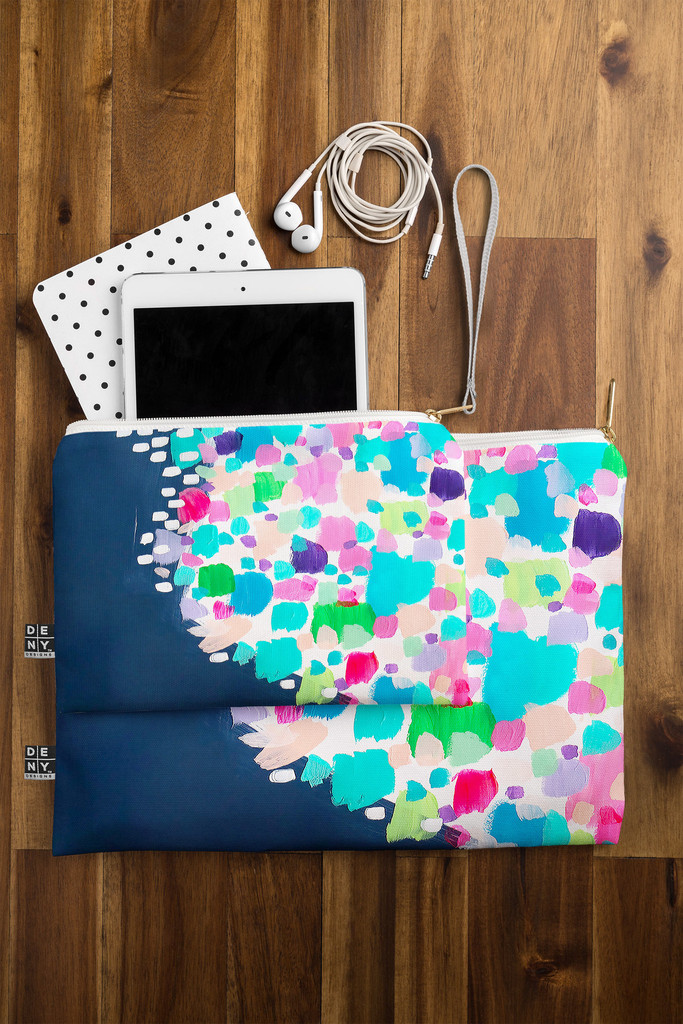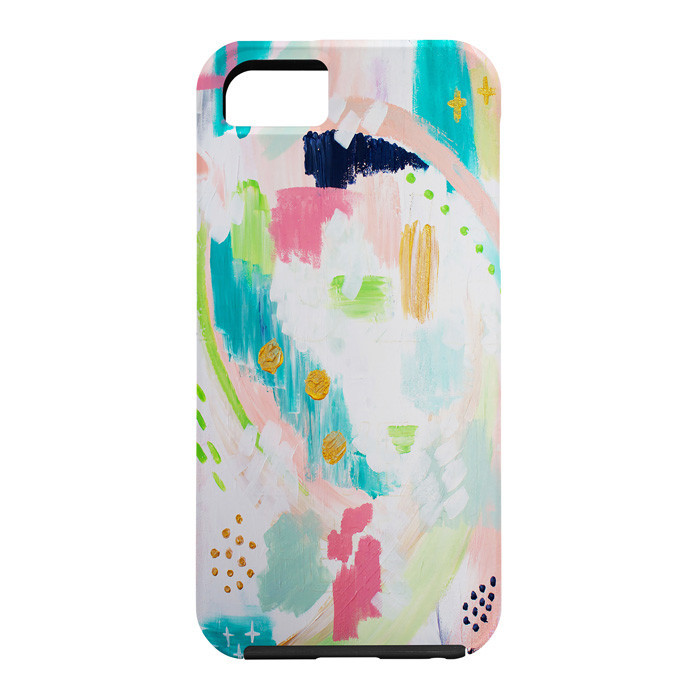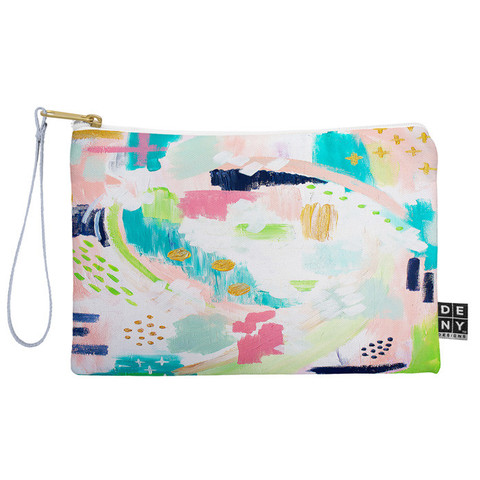 Laura is also active on Deny Designs, where her art has been placed on home decor, cellphone cases, makeup bags, and more. There's literally pages and pages of amazingness happening with her art. I hope you stop by and check her out and give her a follow, but before you do, below is a short Q & A to get to know her a bit more! She also created four amazing free wallpaper designs for your computer and phone toward the end. Happy downloading!
Q & A
DID YOU ALWAYS HAVE A PASSION FOR ART AND WHEN DID YOU START PURSUING IT?
I have always been passionate about art and design. I can remember re-doing my room at about 10 and going to the paint store, and being so specific about how the room would and should look. The salesperson looked at my mom and said, "She's going to be an artist". I spent free time at home painting, and spare periods in high school in the art room creating. After attending OCAD University for Environmental Design, I took a break from creating. I started back up while on maternity leave with my first child and haven't stopped since.
WHERE DO YOU FIND INSPIRATION?
I find my inspiration all over the place. In everyday life, from fashion trends, floral arrangements, pretty skies. I find since I have started creating again, everywhere I look there is inspiration. (and it is a lovely feeling!)
WHAT MEDIUMS DO YOU USE?
I stick to acrylics currently, adding detail in ink when needed. When I first started creating again I used water colors, and I am so itching to play with oil paint. I think my abstracts would be so delicious in the texture that oils bring!
IN THREE WORDS, HOW WOULD YOU DESCRIBE YOUR STYLE OF ART?
Enthusiastic, Bright, Feminine
DO YOU LISTEN TO MUSIC WHILE CREATING ART? IF SO, WHAT'S ON YOUR PLAYLIST?
Yes, always. A wide mix, Justin Bieber, Beyonce, Macklemore and Ryan Lewis, Drake, and then on the opposite side….I'm a country girl too, Maren Morris, Clare Dunn, Miranda Lambert and obsessing over Thomas Rhett's "Tangled Up" currently! Just depends on my mood.
DESCRIBE YOUR MOST TREASURED ART PIECE TO DATE - ONE THAT YOU ARE MOST PROUD OF.
My Wild and Free Canvas represents a big breakthrough for me. I realized in that painting - that my very own style and developing voice was one to be proud of. Sharing your art with the world in the beginning is a scary thing - this represents moving on from the fear and stepping out - proudly. I have since turned that canvas into a set of art prints, so others can have Wild and Free in their home.
NAME ONE ARTIST YOU ADMIRE.
Britt Bass - Her color and the feeling in her abstracts are so stunning.
WHAT ADVICE WOULD YOU GIVE TO EMERGING ARTISTS?
Just Create. Focus on your creative drive, your need to create, and just keep moving. You will get distracted, you will sometimes feel defeated or stuck. But just keep going. Usually after those down periods, something wonderful comes. You were meant to create exactly what it is you are creating, and no one else can do it how you do.
WHERE DO YOU SEE YOURSELF IN FIVE YEARS?
I want to be running a successful online boutique where I can sell not only my own art, but the art and accessories of other artists. I want to curate a shop full of beauty!
IF YOU COULD BE ANYWHERE IN THE WORLD RIGHT NOW, WHERE WOULD YOU WANT TO BE?
Hawaii. My husband and I went to Hawaii for our honeymoon, and we secretly dream of moving our family there and living a simpler life.
Thanks for stopping by! For wallpaper updates, sign up for my newsletter in my sidebar or simply follow @hlovelyliving and @cheekybillo on Instagram. Search #cheekyliving to see when new designs are up and tag us with which wallpapers you picked so we can feature your photo!
My Wallpaper Wednesday partner in crime - the lovely, Ena Chahal - can be stalked over here: Instagram | Blog | Casetify | Society 6
What designs and artist features would you like to see next? Share with me in the comments below!
Disclosure: All designs are original and for personal use. Artists retain rights to all designs and they may not be copied or reproduced in any form or likeness. We love when you share, but please link back to the original post. Enjoy!