This Boss Babe Runs Two Businesses All While Working Her Day Job
Amy Jade Lore of Amy Jade Designs and Beautycounter is one busy woman. As if one side hustle wasn't enough, she decided to take on the world with two - while still managing a full-time job. I think we can all agree that having a full-time job is demanding in and of itself. Just how she manages to juggle the demands of all three is beyond me. Go Amy!
Based out of Montreal, Canada, Amy is a graphic designer and calligrapher and founded Amy Jade Designs, where she combines her two creative talents to design lovely commissioned pieces. Her passion soon led her to Beautycounter, a company whose goal is to get safer personal care products into the hands of everyone. As a Senior Consultant at Beautycounter, Amy has found purpose in spreading the mission and purpose of the company and in educating everyone about the benefits of choosing safer personal care products.
Let's get to know Amy a bit more! I asked her a few questions that I really felt would help all of you aspiring boss babes in your personal walk. It helps to get to know other women on a more personal level and to understand that we are all figuring things out one step at a time. I hope you enjoy this!
What was the biggest turning point in your life that made you want to pursue your own business?
I've always had my freelance Graphic Design and now Calligraphy business on the side of my 9-5 day job. When I discovered Beautycounter and began researching their company's mission of getting safer beauty products out to the public and creating awareness, I knew this was something I wanted to be a part of. I was sent the "We deserve better" video, which talks about the lack of regulations in the beauty industry, and I was so shocked by the statistics and immediately wanted to help share this message with friends and family.
How did you feel when you made that decision?
I was a little nervous about the new challenges it would bring, but mostly extremely excited for the future.
What inspired and motivated you to follow through with your decision?
Being my own boss has always been something I've wanted to do. I enjoy the flexibility but even more I enjoy being a part of something that matters. When I introduce someone to a Beautcounter product, like the Charcoal Cleansing Bar, and it helps clear up a skin issue that they have been struggling with for years, I find it extremely fulfilling and it makes me want to continue this journey.
What were the first steps you took to get the ball rolling?
One of the things that made the transition of joining Beautycounter as an independent consultant easy is all the training and information available. As a consultant, I am connected to a mentor, who basically has guided me through the initial process and answered any questions that I have. The company also has an influx of "how to" materials that really walks you through the steps of creating a successful business and being a successful independent consultant.
Tell us about your business and why you chose to pursue that particular business.
Unfortunately like many people, a lot of my friends and family have health issues. All four of my grandparents have had cancer, and one thing I hear constantly is that, had they known at a younger age that the things they were doing when they were younger were not good for them, they would have avoided it. Now we have so much information at our fingertips about making safer choices, so the idea of being able to spread this knowledge has definitely given my decision to enter this business a purpose.
What types of challenges have you experienced so far and how are you overcoming them?
I've always been a little bit of an introvert. The idea of trying to market myself as an artist and reaching out to new contacts, at first, was daunting. However, there are so many tools available to overcome these fears. I find that social media, such as Instagram and Facebook, has been wonderful to really connect with others and to be a part of a strong community. Although graphic design is a completely different field than the beauty industry, I still find so many similarities since, in both realms, I am working for myself, so I am able to transfer the skills I learned in each.
Which principles and values have you based your business upon and how do you hope to carry that through to your customers?
Beautycounter has been the perfect company for me to get involved with since they have such a strong mission of getting safer products out to people and educating them on the importance of knowing what is going onto theirs and their loved one's skin. Each day I'm able to reach out to a wider audience to share these values, and knowing I am confident in the product and mission makes it that much easier to accomplish.
What do you love about having your own business and being your own boss?
I love being able to know that the hours I am putting in are for myself and that I can see the results directly and know that it pays off.
What would you like to accomplish and where would you like to see yourself and your business in 5 years?
I would love to continue with what I am doing now but grow both my businesses. My main goal is to reach as many people as possible and get safer products into everyone's home.
What advice would you give to someone who is considering starting their own business?
I would definitely encourage it! I personally started out both as side jobs and would suggest going that route. Take the time to create a name for yourself and really establish relationships with potential clients. At one point you will see a shift and realize that you are getting more clients and work and that you can pursue that as a full-time career. It's definitely time-consuming, there will be a lot of late nights, and you'll hear "no" often, but in the end, you'll be at a job that you really enjoy.
I am ...
not afraid to speak my mind.
I believe ...
in making time for friends and family.
I love …
Coffee - slightly addicted. :)
My greatest fear is …
taking on too much and burning out.
My greatest lesson in life so far is …
to create a balance between work life and personal life in order to achieve happiness and success.
I am proud of ...
anyone that pursues their dreams.
My greatest accomplishment is ...
taking the leap of establishing my own business.
A quote I live by is ...
"Life begins at the end of your comfort zone" - Neale Donald Walsch
My idea of a perfect day is ...
a relaxing day at the beach with friends.
My dream is ...
to be happy and not have any regrets.
I will ...
never stop challenging myself.
Amy serves as an inspiration to those of you who have a career, yet are feeling pulled toward stepping outside of that. Not only is it possible to pursue your dreams while managing a full-time job, it is oftentimes necessary until you have built something substantial enough to pull the weight that your full-time job only could. It can be overwhelming just thinking about how you could possibly build a business while juggling a full-time job, but if you have the drive and determination to do it, there's no limit to your potential.
No matter what obstacles you may face, including having to support yourself and your family while pursuing your dreams, small steps are bigger than no step at all. So, if you have a dream that you are wanting to pursue, take it from Amy to go out there and do it! It will be a challenge, but it will be so worth it.
To learn more about Beautycounter and how you, too, can get your hands on safer personal care products, or if you are interested in being a part of the company's mission, you can get in touch with Amy, and she will be happy to help.
This month, Beautycounter launched their Holiday Gift Sets, and they are gorgeous! Just take a look down below for some snapshots of some of them. I'm all about companies that are a part of the clean beauty movement and who are holding themselves to a higher standard, so this is seriously stuff that I love to show my support for. I've also tried a few of their products from their skincare line, and I really enjoyed them.
To show my support for Amy - for a limited time (from now until November 19) - I will be hosting a Beautycounter social, which is basically just a fun way to shop together (virtually). Every purchase is an automatic entry into our giveaway, where you could win a Luminous Nudes Gift Set - valued at $75! How amazing is that - I'm so thankful that Amy is able to do this. There is also a 60-day money back guarantee on all orders. I hope you join me! You can shop directly at the button below.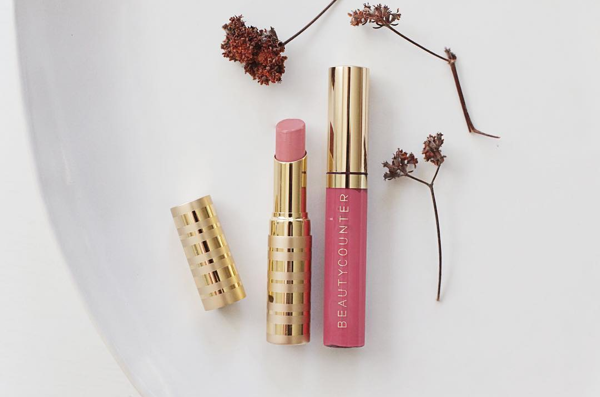 I hope you enjoyed this post and gained inspiration from Amy's story. There will be more inspiring stories to come as I feature other women who are taking charge of their dreams and their future. Until then, have an amazing week and stay beautiful babes!
Are you an aspiring boss babe with big dreams? I'd love to know how I can help you get there. Let's chat in the comments below!